• hispanic heritage month • new release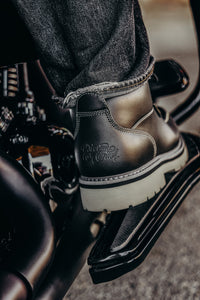 Introducing the Lugz x Esteven Oriol Strutt Boot, a unique collaboration between Lugz and Estevan Oriol, a world-renowned photographer and director responsible for capturing the heart and soul of Los Angeles through photography and film. Read more about his legacy and these limited-edition Lugz Strutt boots now.
---
• featured • hispanic heritage month • new release
WSS Fan Fest 2023 was an unforgettable celebration of sports, style, and community spirit. With thrilling challenges, fantastic prizes, and a focus on top-quality brands like adidas, attendees experienced the best of what WSS has to offer. Although no more Fan Fests are scheduled for this year, the memories of this event will undoubtedly linger, leaving everyone anticipating the next extraordinary gathering hosted by WSS.
---
• featured • hispanic heritage month • new release
Not only did WSS generously bolster the organization's scholarship fund, but they also added a special touch by providing 10, $100 WSS gift cards. The atmosphere was electric with giveaways and prizes! Students had a blast spinning the wheel for a chance to snag adidas sunglasses, wristbands, water bottles, solar power banks, and fanny packs. This event was made even more memorable with the support of the iconic brand, adidas. It was a day of fun, surprises, and opportunities, all while emphasizing the importance of education for a brighter future!